Promoting Research and Educating Students at the Graduate Level
The Coherent / II-VI Foundation is focused on educating the next generation of engineers, scientists and mathematicians. All Block-Gift programs must have the students and student education as its primary focus.
Block-Gift research topics typically fall into one of three major Technology Focus Areas: Optics, Lasers & Photonics, Additive Manufacturing and Wide Bandgap Power Electronics. Periodically we augment these areas with topics of special interest. Currently chip level photonics integration, quantum communications, and solid state batteries are of interest. In general, Block-Gift projects tend to emphasize research involving material synthesis, crystal growth and processing, and novel device studies including design, fabrication, and characterization. 
Block-Gift programs must have the following attributes:
Please note: Proposals are accepted on an invitation-only basis. Please see the "Block-Gift Consideration Procedure" page for guidelines. If you would like further information on the invitation process, please write to: admin@co26fdn.org.
Block-Gift Procedure
Learn how to participate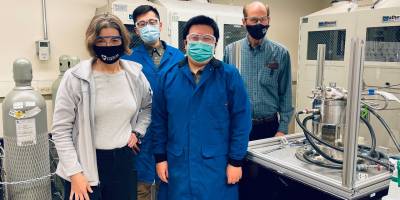 THIS PROCEDURE MUST BE FOLLOWED TO BE CONSIDERED FOR A BLOCK-GIFT INVITATION …
Read more
Key Dates
The following 2023-2024 critical dates and report fillings must be met:
We encourage electronic submissions. Please submit all proposals, reports and reconciliations to: Coherent/II-VI Foundation, Attn: Block-Gift Program, admin@co26fdn.org
Meet Coherent/ II-VI Foundation Block-Gift Technical Team
Mini-Conference Testimonials
"The opportunity for my students to present their work at the II-VI Mini Conferences has been a great benefit of our ongoing relationship with the II-VI Foundation. The thoughtful questions of the participants coupled with the feedback and encouragement from II-VI have been very helpful in the professional development of my students. The soft skills of learning how to make a good technical presentation and respond to questions are critical for all technologists, but they only come with practice and feedback. The II-VI Mini Conference is a great forum for improving these skills."
John Dallessasse, Ph.D.
Professor, IEEE Fellow, OSA Fellow
Acting Associate Dean for Facilities and Capital Planning, Grainger College of Engineering
Vice President of Technical Committees, IEEE Electron Devices Society
Department of Electrical and Computer Engineering
University of Illinois at Urbana-Champaign
"The II-VI Foundation Block-Gift Mini-conferences have been a great opportunity for me to interact with industry leaders and cutting-edge researchers where we can discuss ideas relating to emerging technologies and current research topics, including my own. I have attended the Mini-conference for three years (both in person and virtually) and have seen my presentation and research competencies improve drastically. My group and I are very fortunate to receive support from the II-VI Foundation and we look forward to continuing our research endeavors for years to come."
Kevin Pikul
Graduate Research Assistant
Nick Holonyak, Jr. Micro & Nanotechnology Laboratory
University of Illinois at Urbana-Champaign
Mini-Conferences
The Coherent/ II-VI Foundation holds mini-conferences at different times throughout the year for our Block-Gift recipients. These mini-conferences provide an environment for the purpose of sharing information, technology and expertise. Lively discussion can provide opportunities for students and professors to exchange new ideas and perspectives. In the best case they find common ground for new research topics and form lasting relationships among the participants. Each mini-conference focuses on common topics among the participants. They may be held either virtually or at various locations around the country that allows for local technical participation and often access to tours of local businesses that overlap the conference focus areas. In 2020 our first ever virtual mini-conference was held with great success.
Since 2020 and the pandemic, four mini-conferences have been held virtually usually the Zoom mechanism. Virtual conferences allow for a wider audience base and possible participants and attendees from all over the world. The Ohio State University hosted two of these virtual conferences, The University of Arizona, Wyant College of Optical Studies, hosted one and the The University of Virginia hosted a virtual mini-conference on June 21, 2022.
Latest News
Optics, Lasers and Photonics University of Arizona, Professor Mahmoud Fallahi, High-Order Laguerre-Gaussian Beam Mode Locked VECSELs for Secure Free Space…
Read more